IK Multimedia has announced the release of UltraTuner, a precise digital tuner app for for iPhone, iPad and iPod touch.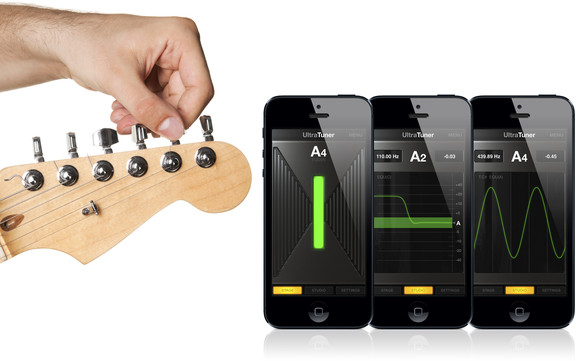 UltraTuner features one of the fastest, smoothest and most responsive tuning engines of all tuner apps, and is precise to well below a hundredth of a cent — far beyond human perception of pitch, making it 10 times more accurate than a mechanical strobe tuner.

UltraTuner's precision and speed provides players and engineers with a pocket-sized professional instrument tuner always at hand and offers two basic modes of operation: Stage and Studio. When in Stage mode, UltraTuner is a straightforward, ultra-accurate instrument tuner featuring a unique, simple interface that's very easy to see in low light conditions. In studio mode, UltraTuner provides pitch tracking – allowing players to monitor pitch over time. This is especially useful in the studio for monitoring pitch of non-chromatic instruments like vocals, violin and brass etc., on recordings over time, and very useful for vocal and instrument pitch training.

In the settings window, players can quickly calibrate the "A" note, set the temperament type, set the root key for tracking and adjust the audio sensitivity. UltraTuner can use the device's built-in microphone for audio input, and works with all analog or digital audio interfaces for iPhone, iPad and iPod touch, like IK's iRig HD, iRig PRO and the iRig MIC series of products.
UltraTuner features
Innovative patented tuning engine that provides the highest level of responsiveness and accuracy with 0.01 cent resolution.
Dual Mode: Stage and Studio.
Large Tuning indication visible from a distance (stage mode).
Tuning History to see the tuning variations over time (studio mode).
Temperament selection includes: Equal, Pythagorean, Just Major, 1/4 Comma Mean Tone, Kimberger III, Werckmeister III, Young and Kellner.
Useful not only for tuning, but also for non-chromatic instrument training.
UltraTuner is available to purchase as a standalone app from the App Store for iPhone and iPod touch for $4.99 USD / 4.49 EUR, or as an in-app purchase within AmpliTube for iPhone (Free/LE/Full versions), and AmpliTube for iPad (Free/Full versions).
More information: IK Multimedia