IK Multimedia is has announced that a free update for AmpliTube for iPhone and AmpliTube for iPad is now available in the App Store.
This update brings more included free gear with the full, LE and Custom Shop versions of the app, and adds the availability of Fender Collection 2 for iOS to guitar and bass players around the globe.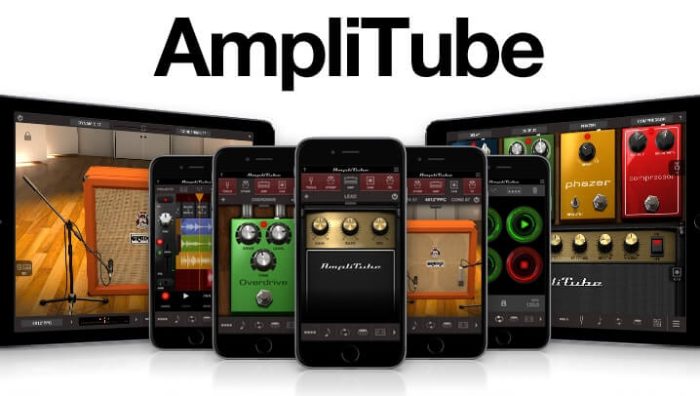 In the full version, players now have one of the largest gear collections of any mobile amp software including 3 new amplifiers and 6 new stompbox effects to craft amazing guitar tones on the go. New stompbox effects include the Swell volume modulator, an Electric Flanger effect, the Crusher overdrive, Dcomp compressor, Feedback distortion and Phazer10 phase pedal. New amp models include the British Copper 30TB based on one of the most popular vintage British combos ever, Vintage Metal Lead and the 360Bass amp.

The LE and CS versions are fully loaded with gear including 4 new stompbox effects; Crusher, Dcomp, Feedback and Phazer10, plus two new amp models, the Vintage Metal Lead and the 360Bass.

Also, users can purchase all the add-on gear collections from any version via in-app purchase including the newly released Fender Collection 2 for iOS – the definitive collection of classic and reissue amps from the 50s & 60s. Fender Collection 2 for iOS includes amp models and cabs from the '57 Custom Series which consists of the '57 Custom Twin-Amp, the '57 Custom Pro-Amp, the '57 Custom Deluxe and the '57 Custom Champ®. Also included are an original '53 Bassman, a '65 Super Reverb and a '57 Bandmaster, all with matching cabs.

AmpliTube for iPhone and iPad is the ultimate mobile guitar tone playing and recording studio that puts accurate and dynamic sounding models of the most iconic amps and effects in the music industry right at the fingertips of players on the go. IK offers a complete "start to finish" music production system when used with the extensive range of iRig mobile interfaces for iPhone, iPad, Mac® & PC.
Changes in AmpliTube for iOS v4.4
New Fender Collection 2 available for in-app purchase: '57 Custom Twin-Amp, '57 Custom Pro-Amp, '57 Bandmaster™ and more.
Comes with 17 stompboxes, 8 amps, 8 cabinets and 2 mics.
6 new stompbox effects included: Swell, Electric Flanger, Crusher, Dcomp, Feedback, Phazer 10.
3 new amp models included; British Copper 30TB, Vintage Metal Lead, 360Bass.
Superior sound with the same amp DSP and oversampling option as AmpliTube Custom Shop for Mac and PC.
Over 100 pieces of available gear.
"Cab Room" feature — 3D cabinet miking with two mics.
16 high-end studio microphones available.
4-Track Looper with export feature.
Loop Drummer now has time stretching and UNDO/REDO editing.
AmpliTube version 4.4 is a free update for existing users of AmpliTube. AmpliTube for iPhone and iOS are available in free and paid versions.
Fender Collection 2 for iOS is available via in-app purchase for 19.99 EUR/USD, and individual amp models with matching cabinets start at 4.99 EUR/USD each.
More information: IK Multimedia