IK Multimedia has announced its has updated AmpliTube for iPhone/iPad, which now features new Ampeg and Fulltone gear, iOS 9 compatibility and more.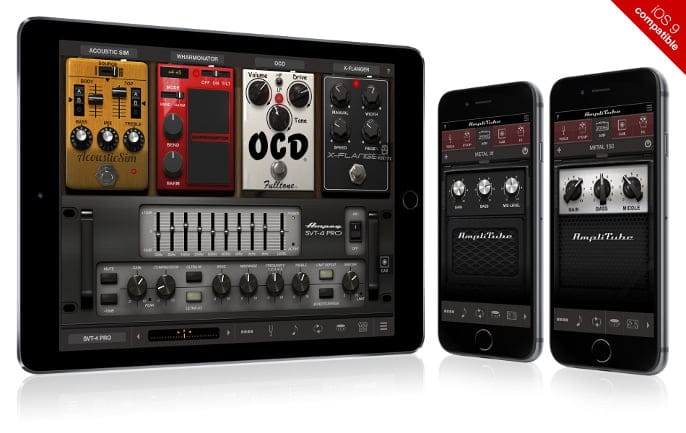 IK Multimedia, the leader in mobile music creation, is pleased to announce a new update to AmpliTube®, the ultimate mobile tone studio for iPhone and iPad that adds 7 new pieces of gear that include everything from bone shaking metal amps to versatile stomps and more.

The update now also lets musicians export loops made in the Looper feature so they can be used in the DAW for song composition or other audio apps. In addition to the new gear and features, AmpliTube now sports easier gear navigation and selection, iOS 9 compatibility and a number of new in-app gear bundles.

A number of the new amplifiers are now also available for free to registered users of iLoud, iRig 2, iRig Stomp and iRig BlueBoard. Add it all up and it's easy to see why AmpliTube for iPhone and iPad is the most professional, cutting-edge and easy-to-use mobile guitar and bass tone studio of all time.
The new versions of AmpliTube for iPhone/iPod touch and AmpliTube for iPad are available now as a complimentary update for existing users or as a paid app for 19.99 USD/EUR for new users. Expandable demo and LE "Light Edition" versions are available for iPhone and iPod touch. An expandable demo version is also available for iPad.
The new gear is available for purchase inside AmpliTube individually with prices ranging from 4.99 USD/EUR to 9.99 USD/EUR. An Ampeg Pack is available for 9.99 USD/EUR, an ENGL Pack is available for 9.99 USD/EUR and a Full Metal Packet (which bundles all the AmpliTube Metal gear) is available for 19.99 USD/EUR.
As in the previous versions, all purchased gear can be freely transferred between all versions and between iPhone, iPad and iPod touch.
More information: IK Multimedia