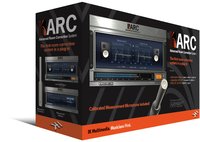 IK Multimedia has released version 1.1 of ARC System, bringing new features and functionality to ARC System, which delivers the most advanced solution to acoustical problems for any DAW-based studio.
Changes in ARC v1.1
Full Range Bass Correction: It is now possible to disable the Automatic Bass Roll off point detection feature, allowing ARC's correction to be applied to the entire frequency spectrum, down to 20Hz. In rooms with especially odd low frequency issues, correcting the entire spectrum gives users a more accurate flat response and corrected listening environment.
Maximum boosting/correction applied at the low end is never more than 9 dB, thus protecting the speakers from excessive boost. With this feature, users now have more options for room correction, as well as the ability to tune their speakers with more power than ever before.
The ARC System 1.1 update is a free download for all registered users of ARC System, available now in the IK User Area.
Visit IK Multimedia for more information.