IK Multimedia has announced the release of Modo Bass version 1.5, an update to the virtual bass instrument that brings new bass models from the most frequent user requests, with more strings, greater range and more control options for an unmatched level of realism and playability.
MODO BASS is a customizable physically modelled virtual bass instrument that recreates the sound of the electric bass and how it's played in real time – from all the physical instrument components, the human technique of how the instrument is played, to the entire signal chain with effects and amplifiers.
Version 1.5 comes with 2 new highly sought after bass models.
Metal Bass is based on a fanned-fret 5-string model, making it particularly suitable for use with the new drop A feature, which allows the lowest note to be tuned from low B to low A, recreating the typical tone loved so much by metal fans.
Metal's variable scale reaches a length of 37 inches for the lowest string allowing for a very deep and solid low end with strong fundamental pitch, but also great focus and articulation to cut through even the heaviest of guitar mixes.
Imperial Bass is based on a custom 6-string model, providing an expensive, creamy and rich sound that is ideal for funk, pop, latin-pop, fusion, jazz-rock, alt-rock and many more genres which require a very round, resonant bass tone.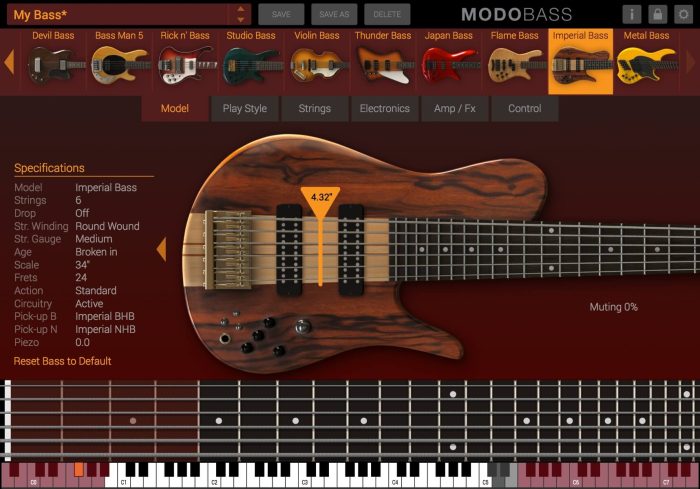 Changes in Modo Bass v1.5
2 new bass models: Metal (based on a 5-string fanned-fret model); Imperial (based on a 6-string custom model).
6 string feature: all models can now be turned into 6 string basses.
Drop A feature: drops the low B String to an A note.
A redesigned, more flexible control section.
Modo Bass version 1.5 is a free update for registered users. Modo Bass (VST/AU/AAX) is available for 299.99 EUR/USD, and a crossgrade is available for 199.99 EUR/USD to qualified users. Prices MSRP excluding taxes.
More information: IK Multimedia