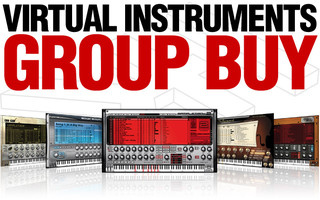 IK Multimedia is offering participants of the V.I. Group Buy the opportunity to buy any virtual instruments for up to 50% off and get three free instruments.
Thanks to the 1,000 users who purchased and registered their Virtual Instrument, the V.I. Group Buy is now giving away three free Virtual Instruments!

From now to September 8, 2013, you can choose three of our top-of-the-line Virtual Instrument for Mac/PC for free when you buy any IK Virtual Instrument and register it. Plus all the IK Virtual Instruments are discounted at up to 50% off for this promotional time so you can get them each at one low price – $69.99/€55.99.

Choose from SampleTank 2.5XL, Miroslav Philharmonik, Sonik Synth 2, SampleTron or SampleMoog (normally priced at up to $149.99/€119.99). If another 500 people to join the Group Buy, you get another free VI! You have a chance to get up to 5 free software titles, worth a combined $600. Tell all your friends, because the more people join, the better the chance for more free VIs!
The group buy ends September 8th, 2013.
More information: IK Multimedia