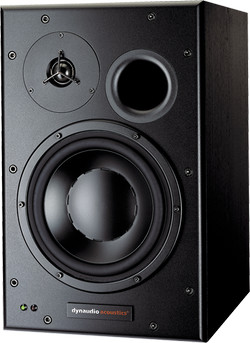 ILIO has announced that Dynaudio Professional will provide five pairs of its BM15A studio monitors for demonstration at this year's Winter NAMM show. The speakers will be seen and heard at the ILIO booth, Hall A, #6724 throughout the show.
ILIO president Mark Hiskey comments, "The Dynaudio BM15As are outstanding speakers with tremendous clarity and punch. They'll provide the ideal combination of power and fidelity that will put our virtual instruments and audio processing products in the best possible light at the show."

First introduced in 1998, the BM15A is a high performance speaker whose full-range extended bass response makes it an ideal nearfield monitor, particularly for commercial studios, project studios and post-production facilities.

The BM15A is a relatively large 2-way active system comprised of a large 240mm (10″) woofer, a special version of the Dynaudio ESOTEC soft dome tweeter and an electronic phase-aligned crossover, which feeds the built-in dual, high performance discrete MOSFET amplifiers.

The ESOTEC HF driver provides quality and headroom due to a dynamic headroom of 1000W. The 240mm (10″) bass driver is well-known for its 100mm (4″) aluminum alloy voice coil, which outperforms many 300mm (12″) drivers in terms of power output and punch.

The electronics offer complex protection circuitry helping to prevent accidental damage to the drivers, while still providing maximum transient response.

The BM15A monitor is front-ported for powerful and extended low frequency response, and the elegant matte cabinet has radius edges on the front baffle to reduce boundary effects and improve the overall sound quality.