ILIO has announced the release of Robotica, a sound library for the Omnisphere 2 virtual instrument by Spectrasonics.
The library contains over 400 MB of brand new, never released source material, recorded at 48/24 (with some at 96/24) and processed for maximum sound quality. Sounds were derived from popular modern analog synths, vocoders, guitars, time-stretched vocals and sound fx, as well as a few other boutique digital sources.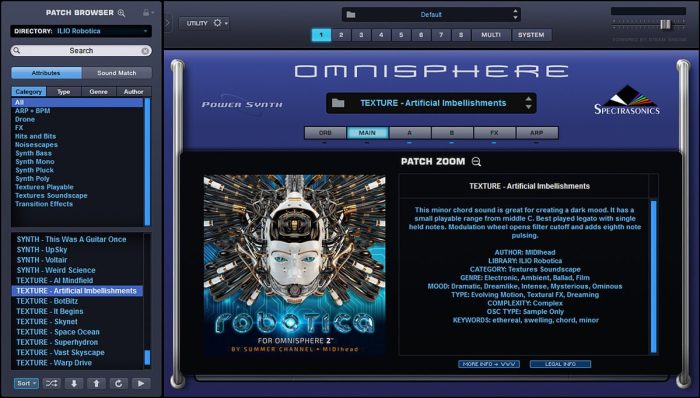 Jesse Scott of Summer Channel (formerly of Deepsky) and MIDIhead teamed up with ILIO to create their second, truly unique set of patches for Omnisphere 2. Robotica is focused on Cinematic Sci-Fi and contains ominous drones, atmospheric pads, spaced-out sound effects, ethereal and epic synths, robotic effects and textures, vocoder sound bites, and BPM-locked movers

"This is definitely my favorite library that I've worked on to date. This library is the culmination of everything I love about Sci-fi flicks. Even if you're not using this library for soundtracks, there's still something in it for everyone," says Jesse Scott.

MIDIhead adds, "I've long been fond of recording original sounds and turning them into something completely different and useful. From ear candy, to unexpected surprises I think you'll enjoy toying around with Robotica and have a lot of 'Favorite' star-clicks in your patch browser."
Robotica is available for purchase for $35 USD.