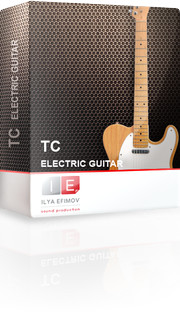 Ilya Efimov has released TC Electric Guitar and TC Strum, two electric guitar sample libraries for Native Instruments Kontakt.
Ilya Efimov Sound Production now presents 'TC Electric Guitar'; a detailed emulation of the Fender Telecaster guitar. We have invested much effort into re-creating the nuances of this guitar to make it sound as real as possible.

Due to a great number of velocity layers you will be able to achieve a wide dynamic range and an extensive palette of guitar colors. The sound of each pickup was recorded separately, so you are able to control the direct signal from the pickups independently. This allows complete sculpting of the sound to your taste. Put the library through dedicated amp modeling software to really hear it come alive.
TC Electric Guitar features
4 138 samples, 2.93 Gb (NCW Compression), 44,1 Hz 24 bit, stereo.
10 velocity layers for each note 23 frets on the each string with round-robin.
Automatic and manual String Selection.
Automatic and manual Left Hand Playing Position Selection.
3 modes for automatic search of chord position.
14 different articulations.
Realistic legato.
Relistic and LFO vibrato.
Realistic glissando.
Repetition keys.
feedback.
Many differents FX and Noises.
Effects: Reverb, Compressor, EQ, Delay, Chorus, Flanger, Phaser, Cabinet.
MIDI-guitar mode.
TC Strum is similar to TC Electric Guitar, but specifically for emulating guitar accompaniment. The library's features include more than 30 techniques for chord strumming, a new strumming algorithm, and manual strumming.
The sample libraries are available to purchase for 99 EUR each, or in a bundle for 149 EUR.
More information: Ilya Efimov / TC Electric Guitar