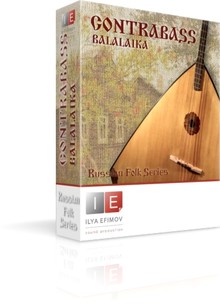 Ilya Efimov has introduced the Contrabass Balalaika, a new "Russian Folk Series" sample library for Native Instruments Kontakt.
This instrument has a special place in the balalaika family. The largest in size, Contrabass produces the lowest, most powerful dynamics and sound – equivalent to an upright bass. As with all balalaikas, It has three strings, tuned E-A-D. Main Range: E (bass-octave)-A (treble octave). The notation in the bass clef is written an octave higher than its actual sound.

The contrabass balalaika is played with a large leather pick, creating a softer, thicker, clearer sound. The technique for playing the contrabass balalaika has been developed and perfected in recent times; with solo performances attracting wide attention among artists as well as teachers and students.
Contrabass Balalaika features
465 samples, 44,1 Hz 24 bit, stereo.
10 velocity layers for each note Round-Robin.
Various articulations.
Speed and realistic dynamic tremolo control.
Repetition keys.
The library is available to purchase for 29 EUR.
More information: Ilyia Efimov / Contrabass Balalaika