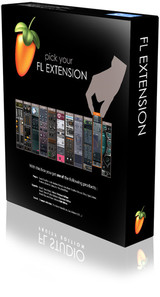 Image-Line has announced FL Extension, a boxed product which brings more than 75 additional plug-ins and product upgrades from the successful FL Studio library into retail stores.
Retailing for $99 USD each, the FL Extension box will contain a code that will unlock a range of downloadable plugins, products and upgrade options for registration. After purchasing the FL Extension box, the customer goes online and chooses the product they wnt to download and unlock. If a customer needs to unlock higher value products, they simply purchase more boxes in-store.

The FL Extension box eliminates buyer's remorse and compatibility issues. Customers can try out any downloadable demo and test the product works on their computer. Importantly, the customer can confirm they are choosing the product that meets their needs and expectations.

When the customer is ready, they can use their FL Extension box to unlock the download from a demo to the fully working version. It's the ideal try before you buy retail product.
FL Extensions will be available at all leading FL Studio stockists soon.
More information: Image-Line