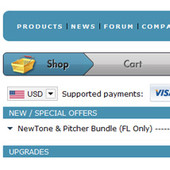 Image-Line has announced a limited time deal for its Newtone and Pitcher, two new tools that are available with FL Studio 9.7 (Beta).
If you are a registered FL Studio owner AND logged into your account then the offer should show in your shop 'Pay what you think they're worth'. The minimum you can enter is $12 USD to cover our back office costs.

This offer will get you Newtone AND Pitcher in the single purchase. It's not limited to the beta versions (both plugins are in beta testing with FL Studio 9.7 at the moment) you will also get the final release versions that install with future versions of FL Studio (e.g. FL Studio 10).
More information: Image-Line