Image-Line has announced the release of FL Studio 12, a complete software music production environment featuring everything musicians and producers need to compose, arrange, record, edit, mix and master professional quality music.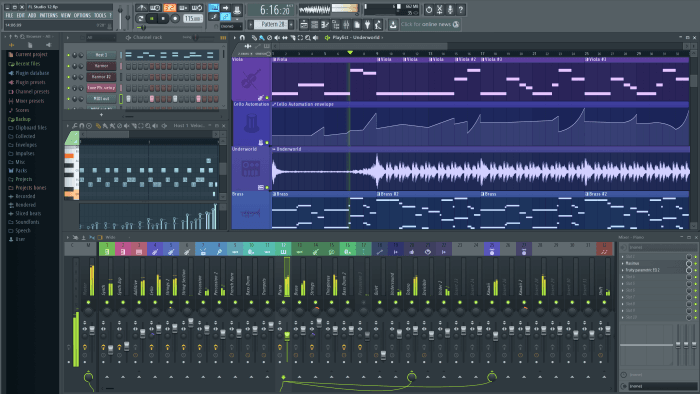 FL Studio 12 introduces the biggest change to the application in 10 years – a vectorial user interface. With high resolution video displays at 4K and 5K resolution flooding the market, FL Studio 12 can take full advantage of these and is ready for the future with support for up to 8K (16 x the pixels of a 1080p display). Experience a pin-sharp, user scalable, interface that is now among the most advanced in the world.

The Mixer utilizes the power of the vectorial back-end to present a fully customizable user experience. It can be dragged to any size and coupled with 6 selectable layout styles plus features that dynamically adjust to the vertical height. FL Studio 12's Mixer is ready for any task or workflow.

Multi-touch has also been taken to the next level. The mixer and main UI can be rescaled to fit human fingers. No more fiddling about with tiny controls on a touch screen. The larger the touch display, the bigger users can make the interface and controls. Swap between Windows Multi-touch and FL Studio Multi-touch modes for enhanced touch functions.
New in FL Studio 12
Updated Editions with more value – FL Studio Fruity edition gains Automation Clips. Producer edition gains Sytrus & Maximus. Signature Bundle gains Harmless, Newtone, Gross Beat and Pitcher. Existing owners also get these great additions.
Vectorial UI – FL Studio is now 100% vectorial allowing it to be used on 4, 5 or even 8K monitors with pin-sharp fidelity..
Mixer – Completely redesigned mixer, dynamically resizable with 6 layout styles plus 3-user configurable docking panels (left, centre and right) for track management. Multi-fader selection and adjustment. Improved mixer track grouping. Multi-touch support. 10 FX slots per track. Many new multi-track routing automated options. Enhanced grouping and submix functions. The dedicated 'Send' channels have been replaced with general purpose send tracks and added to the overall track-pool..
Updated plugins – 3xOSC, Edison, Formula Controller, Peak Controller, Keyboard Controller gain vectorial UIs. Envelope Controller (8 articulators, Mod X/Y envelopes & vectorial UI), Send (can now send to any mixer track & vectorial UI), Hardcore (new tube distortion effect & convolution based cabinet simulation), Patcher (Plugins open outside patcher. Auto patcherizing of existing plugins & multi-touch support). Fruity Convolver new impulse library by Soundiron. Finally, the Channel Settings are now integrated into the Wrapper. ZGameEditor Visualizer – Loads all popular video formats and gains 4K rendering.
Piano roll – Time markers added for labelling and looping purposes. Auto-zoom can now be switched off in the General Settings. Stamp tool replaces chord tool and allows users to click in chords from a selector. Macro to find overlapping notes.
Playlist – Drop multiple stems or Audio Clips on the Playlist from any Windows file browser.
Browser – Improved layout with user configurable category tabs (name and icon). The default categories include Files, Plugins and Current Project providing key content at a glance. Improved file management with Right-click delete options for most content.
Multi-touch support – Multi-touch has been extended to Mixer functions, Channel settings and Control Surface. Swap between Windows Multi-touch and FL Studio Multi-touch modes.
Improved 32 & 63 Bit VST plugin support – The wrapper has been redesigned to improve stability and compatibility. The FL Studio Plugin scan tool now allows unlimited VST search locations and quick favoriting.
FL Studio 12 is available for purchase starting at $99 USD. The update to FL Studio 12 is free for previous FL Studio customers as part of Image-Line's lifetime free update policy.
More information: Image-Line