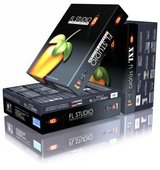 Image-Line has announced the release of FL Studio 8, a complete music production environment for Windows PC.
When comparing FL Studio to competing software we often hear terms like DAW, host, sequencer etc. So let's see what FL Studio is according to Image-Line.
FL Studio is a fully featured, open-architecture music creation and production environment for PC. No extra software is required to produce any style of music, as the complete set of instrument and studio tools is included in the cost of the package.
Although you'll probably be using a number of third party plug-ins with FL Studio, you really do get everything you need to produce music with your PC.
So what's new in FL Studio 8
FL Synthmaker

is a fully modular environment where you can create & share your own FL instruments, effects & dashboards without the need to write basic code.
One-click-recording using the built-in

Edison Wave Editor

, a fully integrated audio editing and recording tool with spectral analysis, convolution reverb, loop-recording and more…

Slicex

, the power horse drumloop slicer & re-arranging tool.

Soundgooodizer

is a stereo 'maximizer-enhancer' plugin based on the Maximus sound processing engine.
Included

Fruity Limiter/Maximizer

for maximizing & compressing final mixes or individual tracks.
FL Studio can permanently learn and remember links to external controllers with the new 'multilink' function + 'Override generic links' option.

Wave Candy

is a flexible audio analysis and visualization tool with Oscilloscope, Spectrum Analyser and Peak Meter.
Sinc interpolation now faster (64point sinc now usable real-time depending on CPU).
Rendering with latency compensation.

Score logger

, records all MIDI & note activity for instant recall.

Directwave Player

, broaden your musical palette with downloadable sound banks and multi-sample sets.

Recording filter

, to select Audio, Automation or Note data recording independently or in any combination.
New

slip editing

and resizing tool for Playlist clips.
Multi-core safe plugins are threaded for performance gain on multi-core CPUs.
Introducing 'Selected mixer track' in Mixer, to which the selected mixer track is routed, and where to place visual effects or a recording Edison.
FL8 now supports Track-based sequencing, Pattern Clips present sequence data as Audio and/or Automation Clips.
A 'News Panel', to keep users updated with content and patches.
I've been using FL Studio 8 (release candidate) for a while now and I'm pretty excited about some of these new features. Slicex takes the Fruity Slicer a few steps furthers, adds some Edison and makes me think twice about firing up Kontakt.
I don't see any mention of it on the what's new page, but I'm loving the new plug-in database & picker in FL Studio 8.
In earlier versions of FL Studio you would have to resort to saving plug-in patches in a structure in the browser bar to get any kind of order in your list. With the new plug-in picker you get a nice visual way of browsing your plug-ins (you can even use your own images) and simply drag & drop the plug-in where you want it.
I haven't tried this yet, but the multilink and Override generic links functions look great too. About Override generic links:
Creates permanent global links between your controller, FL Studio and plugins. Established links will become active only when the window or plugin hosting the software control is focused (click anywhere on the window / plugin to focus the interface).

Another exciting new feature: FL SynthMaker. If you're a regular visitor you probably know many freeware plug-ins made with SynthMaker. SynthMaker allows amateur developers to put their ideas to plug-ins without having to learn hardcore coding.
Many plug-ins made with SynthMaker (and SynthEdit) are quite average, but some are so good they can easily compete with commercial alternatives. And if you're anything like me and love experimental sounds for the many oddball SE/SM plug-ins out there, you're also looking forward to seeing the fruits of FL SynthMaker.
Can't wait to check all this out yourself? You can pick up a fully functioning demo version here (FL Studio 8 demo should be available shortly).
FL Studio has an amazing lifetime free updates (for download edition) policy, so FL Studio is not only quite cheap to purchase, it keeps getting better at no cost as well.
Visit Image-Line's FL Studio website for more information.