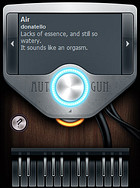 Image-Line has released version 8.5 public beta of FL Studio, a digital audio workstation (DAW) for Windows PC (or Intel Mac/ Bootcamp).
New in FL Studio 8.5 public beta
Ogun: synthesizer specialized in metallic timbres.
Gross Beat: beat rearranger effect.
Autogun: synthesizer based on Ogun.
Lots more (200+ updates/fixes/additions), check the Looptalk forum for details.
While Ogun and Gross Beat were already available, the Ogun based Autogun is a new synth.
Enter an amazing and unexplored sonic universe, armed only with Autogun, search 4294967296 (Four Billion Two Hundred Ninety Four Million Nine Hundred Sixty Seven Thousand Two Hundred Ninety Six) presets for their acoustic potential.
The public beta is now available for all FL Studio Producer Edition users (check your Image-Line profile for a download link).
Visit Image-Line for more information.