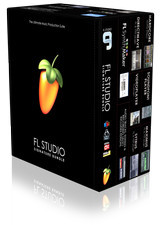 Image-Line has released FL Studio 9, a complete software music production environment, representing the culmination of more than 10 years of sustained & focused development.
FL Studio is a full-featured, open architecture, music production environment capable of audio recording, composing, sequencing and mixing, for the creation of professional quality music. The FL Studio philosophy is creative freedom:

Free your audio – Instruments can be routed to any mixer track. Each mixer track can receive audio from any number of instruments, any number of other mixer tracks and a soundcard input. Further, mixer track outputs allow sending audio to any other mixer track and a soundcard output.

Free your mind – Choose your preferred workflow, compose using the step-sequencer or piano roll. Create in pattern or track mode, then arrange your ideas in the free 'palette' Playlist. The Playlist presents timeline as a virtual 'canvas' where each Playlist track can simultaneously hold any number of score, audio and automation events. Now that's freedom.
Key new features in FL Studio 9
Revised Playlist with integrated 'Play' button, new Clip Track features incl. track naming, muting, clip grouping & icons.
Mixer insert tracks 99 (increased from 64) and 'Track Send' switches now have a 'Sidechaining' function for multi-input plugins. Multithreaded FX processing CPU option.
Piano roll 'Riff Machine' automated sequence generator tool and 'note grouping' feature.
Step sequencer now with integrated Play button for improved workflow.
Multiple controller support, independent instrument channels can be simultaneously played by separate controllers.
Volatile links allow hardware control of last touched GUI object. Improved linking options & functions.
Multi-Core CPU improved multithreaded generator & multithreaded effects processing. Unleash the power of the latest generation multi-core processors.
SimSynth Live, DrumSynth Live, DX-10, WASP and WASP XT are 5 synthesizers that are now included in FL Studio (not in Express) to broaden your musical palette
Ogun (demo) & Autogun (free) additive metal simulation synthesizers. Autogun includes over 4 billion presets!
Gross Beat real-time, audio-stream playback, pitch, position and volume manipulation effect (demo).
Stereo Shaper Mid / Side stereo processing (free).
Vocodex advanced vocoder (free with Producer Edition).
Revised plugins include Fruity Limiter with sidechaining, Wavecandy new mastering meter modes Fruity Reeverb 2 Mid/Side processing. Edison & Slicex new export regions and noise reduction function.
Loop recording Audio Clips are now muted instead of the associated Channel for improved workflow.
Browser now provides access to Windows file-browser (right-click on files). File-name helper displays names past browser edge on mouse-over. The Plugin Database shows plugins by category. Dragging plugin presets onto Mixer insert tracks links the plugin to that track.
Wrapper completely revised for improved compatibility inc., multi-input/output plugins & 'aligned tick lengths'.
Time log in project settings shows time spent working on a project. Time is money, now you can count it!
Over 370 additions, changes & bugfixes, details at the Looptalk forum.
FL Studio is available for Windows PC in several versions, starting at $49 USD for to Express version up to $299 USD for Signature Bundle download (previously XXL). A fully functional demo version is available for download (saving of projects disabled).
More information: Image-Line