Image-Line has released Transistor Bass, a subtractive synthesizer instrument for FL Studio 12.3.
Transistor Bass aims to bring you the sounds of the TB-303 Bassline synthesizer by Roland. It also offers a number of tweaks not found in the original hardware, together with a guitar distortion, FX and a modern sequencer.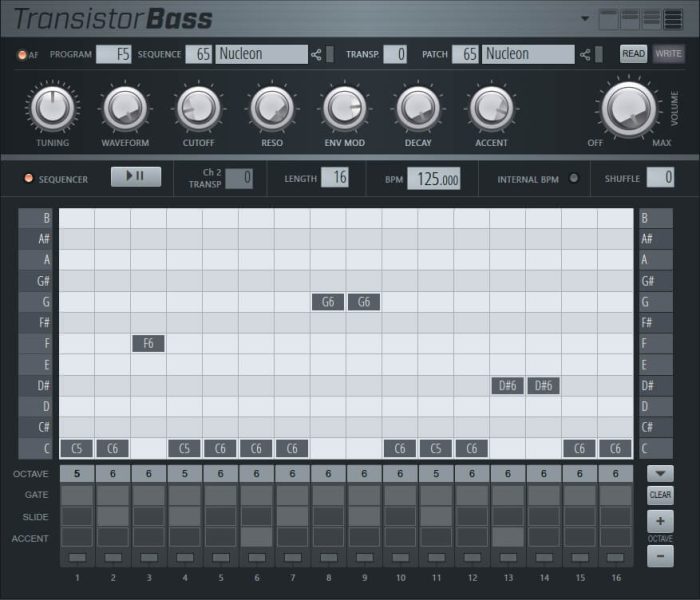 Instantly available are the classic tweakable controls such as cutoff, resonance, envelope mod and decay essential for that acid sound.

Uniquely you can smoothly mix a blend of the square and saw waveforms for greater timbre variations instead of being limited to one or the other at a time.

You can adjust the pulse width of the square waveform or even modulate it with a built in LFO. The minimum decay parameter alows you to change the filter envelope ranger furthur than normal. The high pass parameter, normally fixed in the original hardware, is adjustable here to greatly change the character of the low frequencies.

The TB303™ was often combined with a guitar pedal to create a distorted version of the acid sound.
Transistor Bass includes a perfectly matched distortion effect built in, that can be used for subtle saturation to screaming overdrive effects.

Delay and reverb enable you to place the sound within the space you need. Apply a short slap back delay, huge cathedral reverberation or anything in between.
The Transistor Bass is available for FL Studio 12.3, priced at 70 EUR. It is included as a demo with all FL Studio Edition registrations.
More information: Image-Line