Image-Line has announced an update to the FL Studio music production software for Windows and Mac. Version 20.7.2 brings some enhancements to the the workflow.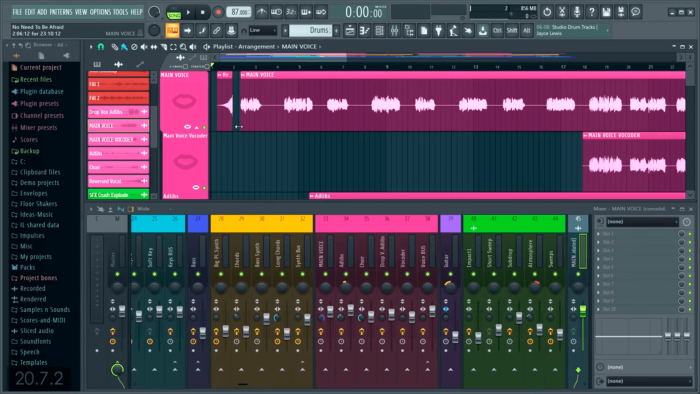 In the second maintenance update for FL Studio 20.7 we're happy to release a slew of requested workflow improvements for your favorite DAW, described below. All because we love your Lifetime Free Updates.
Changes in FL studio 20.7.2
FL Studio Control hints – Most FL Studio controls now show their value when the mouse is hovered over them.
Channel Rack Groups – Users can now lock Channel Groups by deselecting the 'Auto switch channel group' option.
MIDI file drag-and-drop import – Hold (Shift) to suppress the import dialog showing OR hold (Alt) to force show it when dropping MIDI files onto the Channel Rack.
Preserve Clip Trim Edits – Hold Shift when using the 'Clip Menu > Select source channel' option to preserve Clip's start and end positions.
Improved MIDI controller support – There is now a MIDI Scripting forum with new controllers being supported every day.
FLEX – Patch display and selector now available on the Wrapper. Loaded patches now scroll to a visible location when reopening projects.
ZGE Visualizer – Drag and drop Sliced Audio to the Video Cue-point window to add Cue Points (click Cue Points to preview). 'Remove unused' button added to Image tab.
The update is available to download now.
More information: Image-Line