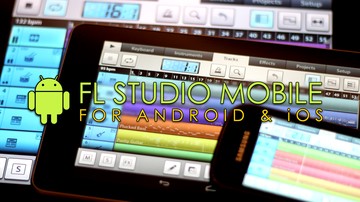 Image-Line has released version 1.1 of its FL Studio Mobile app for Android.
We are excited to announce FL Studio Mobile 1.1 for Android devices available now from the Google Play store, in addition to the iOS version from iTunes for iPod touch, iPhone & iPad. The Android version now gains the ability to create and save your own instruments.
Fl Studio Mobile for Android v1.1 features
NEW Custom kits can be created from wave or compressed audio files within the step sequencer.
NEW Custom instruments or kits can be created from user samples (from zipped wave files).
133 high quality instruments, drum kits & sliced-loop beats.
All instruments have FL Studio desktop counterparts for FL Studio desktop import and extension.
Step sequencer for fast percussion programming and sliced-loop reworking.
Configurable virtual piano-keyboard.
Configurable drum pads.
Browser with preview button and logical sorting into Instruments, Synths, Drum kits & Loops.
Pan, volume, release and attack time configurable per instrument.
Pitch bend via accelerometer.
Latency optimized (depending on the device), high quality, battery-friendly audio engine.
Drum loops and sliced loops ready to start your project with a cool beat.
Effects include Limiter, Reverb, Delay, EQ, Amp simulator & Filter to enhance your mix..
99 track sequencer and intuitive editing options.
Per-track mute, solo, effect bus, pan and volume adjustment.
Edit at the level of tracks, bars or down to individual notes.
Piano roll editor for manual entry of note & chord sequences or detailed editing of recorded performances.
Undo and redo for all editable screens.
Metronome with tempo & time-signature settings.
Intuitive positioning of screens with the slide gesture and resize with the pinch gesture.
Save and load your songs, export to WAV and AAC.
MIDI file import/export.
Share your songs via Email or Dropbox.
In-app user manual.
FL Studio Mobile for Android costs $19.55 USD.
More information: Image-Line