Image-Line has announced version 3.2 of FL Studio Mobile. The update focuses on workflow improvements as requested by customers on the FL Studio Mobile forum.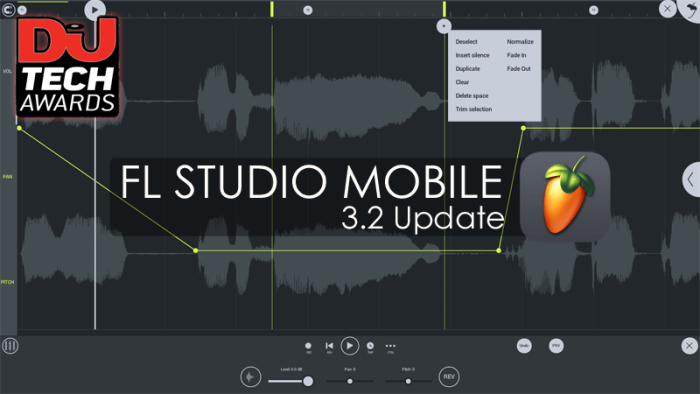 FL Studio Mobile: Create and save complete multi-track music projects on your mobile Phone or Tablet (Android, iOS or Windows). Record, sequence, edit, mix and render complete songs. Music production everywhere, all the time!
Changes in FL Studio Mobile v3.2
Audio Tracks: Level, Pan, Pitch, Reverse controls on lower Playlist. Use more than one sample per track.
Clips: Can now be combined and muted. New Preview option plays currently selected clip only.
Audio Editor: Edit functions on time selection (Fade in/Out Normalize etc)
Time selection menu: Insert/Delete time, Trim etc.
Free samples: 55 Minimal kicks.
Free presets: 200 GMS presets, 101 Supersaw presets.
New library product: Pluck Synths
Export: Rendering updated and simplified.
Snapping: Micro automatic snapping (less than one step according to zoom).
Play position: In editors now display only sounding notes.
Misc bug fixes and stability improvements.
FL Studio Mobile is available for purchase for iOS, Android and Windows.
More information: Image-Line