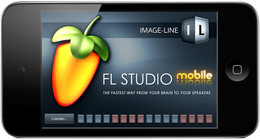 Image-Line has updated FL Studio Mobile, a portable music production app for iOS.
FL Studio Mobile will allow you to create complete multi-track projects on your iPod, iPhone or iPad and, if you want, load mobile projects into FL Studio and take them to the next level.

If it's a beat on the step sequencer, a melody on the piano roll or a full song on the playlist, FL Studio Mobile has you covered.

Never lose that idea again. Get it down and happening wherever you are.
Changes in FL Studio Mobile v1.2
Line 6 MIDI Mobilizer (and MIDI Mobilizer II) support.
CoreMIDI improvements.
".instr" files can be opened from other apps (e.g. Safari, Mail).
Deleting an instrument from the My Instruments folder removes it from the instrument list.
Demos added.
The version number is displayed in the setup.
Keyboard scrolling frame rate improved.
Fix: crash if more than 255 instruments were present.
Fix: filter track events remained unchanged if a bar was inserted or deleted.
Performance enhancements.
FL Studio Mobile is available for iPhone/Pod and iPad (HD), priced at $14.99 USD and $19.99 USD respectively. Existing customers can update from their device or iTunes for free.
More information: Image-Line