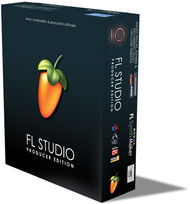 Image-Line has released version 10.0.2 of FL Studio, a music production software for Windows.
FL Studio is one of the world's most popular and exciting music production systems. Everything you need in one package to compose, arrange, record, edit, mix and master professional quality music.
Changes in FL Studio v10.0.2
Newtone: fixed visual update of param wheels & fixed crash when using undo.
FPC: fixed unmuting pads.
Patcher: fixed pitch wheel response, freeze when closing ZGE, voice deletion when removing plugin wrapper: fixed parameter name bug.
FL: fixed possible hang in undo when using interfaceless VST1 plugins.
FL: fixed wrong tempo exported in rendered projects after messing with steps per beat setting.
FL: reversed behavior when left/right clicking on mixer arming button.
FL VSTi: fixed freeze in Cubase when exporting to audio.
FL: fixed note properties not always selected when clicking on notes.
FL: use different charset to let Japanese characters display correctly.
New FL Keys wavetable, default preset.
Resaved DirectWave presets in Data\Patches\Packs to use relative filenames.
ZGameEditor Visualizer now allows custom entry of text, bitmaps, 3D Studio meshes, and trigger video by cuepoints.
FL Studio for Windows (and Mac via Bootcamp) is available to purchase starting at $49 USD.
More information: Image-Line