Image-Line has released FL Studio 12.4, the latest version of the music production software for Windows.
The update introduces the new Transistor Bass bassline synthesizer instrument.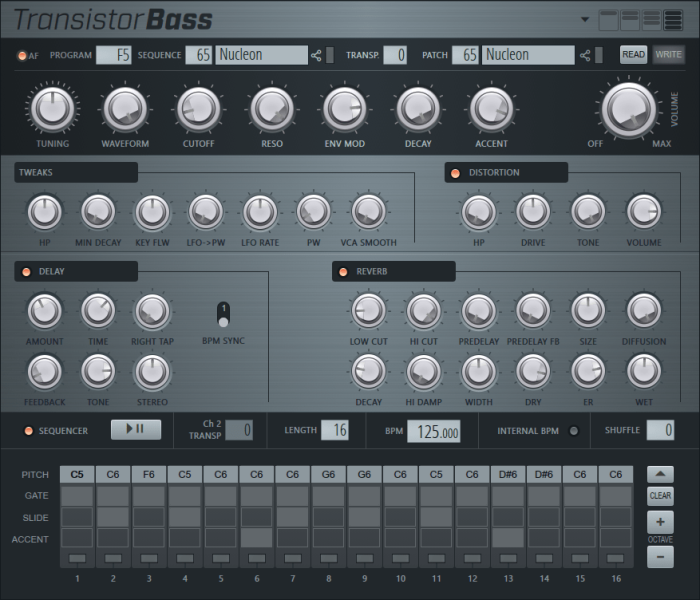 Transistor Bass is a subtractive synthesizer in the style of the legendary Roland TB303™ Bassline synthesizer, but also enhances the concept by offering a number of tweaks not found in the original hardware, together with a guitar distortion, FX and a modern sequencer. Plus, fast editing your bassline sequences.
The Transistor Bass plugin is on sale for $49 USD. All purchases between now and December 1st, 2016, go into the draw to win a real Roland TB-303 ($2,500 USD) and a modded Cyclone TT-303 ($500 USD).
Changes in FL Studio 12.4
New Plugins

Transistor Bass – Advanced emulation of the legendary Roland TB303™ Bassline synthesizer.
FL Studio Mobile – Companion to the Android, iOS and Windows App. Bring mobile projects into FL Studio and take them to the next level.

Updated Plugins

FPC – Vectorial UI. Expandable.
Harmless – Vectorial UI.
Newtone – Added buttons for pitch and warp modes. Option to include region markers when saving a sample from Pitch Correction mode.
Ogun – Vectorial UI.
Parametric EQ 2 – Vectorial UI. Fully resizable.
Patcher – 37 new presets by Youlean.
Razer Chroma – Support for Naga Chroma Mouse.
Slicex – Vectorial UI.
Vocodex – Vectorial UI.
ZGameEditor Visualizer – Use videos as internal controllers. 4 new presets. Use FL Studio Windows as video input. Supports H.264 video export (mp4). Drag-and-drop to re-arrange layers.

FL Studio Features

Extended colors – FL Studio now allows selection of fully saturated colors from all color dialogs.
Custom mapping formulas – Edit the Formulas.txt file ..SystemConfigMapping.
Browser – Restored option to Open samples in Fruity Slicer.
Mixer – Menu > View > "Alternative mixer highlighting" option to work with the new very bright or dark colors.
Dashboard – Can now be resized from the window border.
Plugin Manager – Window can now be set to remain on top of other windows.
Command-line rendering – /R[filename] myproject.flp, use /E[extensions] to specify format (E.g: "/Emp3,ogg,wav").
Loop recording – Significantly improved. Video Tutorial.
Maschine Jam support – Added undo/redo, step seq mode and swing jogwheel mode.
Views – Custom layout is now remembered even when selecting other layout.
Input quantization – Added new recording quantize options (right-click the Record button).
Wrapper – Threaded processing is now on by default.
FL Studio is available for purchase starting at $99 USD. FL Studio includes lifetime free updates.
More information: Image-Line