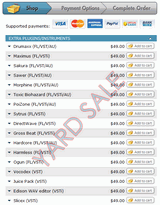 Image-Line has announced a Yard Sale, offering discounts on many of its plug-ins.
The marketing manager woke up this morning and spat coffee all over his monitor.

The CEO had started a $49 Yard Sale for ALL Image-line plugins listed below. Click the image or on the shop link above to start your buying frenzy!
Image-Line Yard Sale
Drumaxx

(FL/VST/AU) – generate drum sounds, from bass drums to snares and hi-hats (regular $99 USD).

Maximus

(FL/VSTi) – a mastering maximizer, compressor/limiter, noise gate, expander, ducker and de-esser (regular $189 USD).

Sakura

(FL/VST/AU) – string physical modeling instrument, to express the delicacy and beauty of stringed sounds (regular $99 USD).

Sawer

(FL/VST/AU) – vintage modeling synthesizer, that cuts through the mix to deliver precisely articulated and punchy sounds (regular $99 USD).

Morphine

(FL/VSTi/AU) – powerful Additive Synthesizer with a logical, flexible architecture that allows you to create any sound (regular $159 USD).

Toxic Biohazard

(FL/VSTi/AU) – combines the best of FM and Subtractive synthesis (regular $99 USD).

PoiZone

(FL/VSTi/AU) – subtractive software synthesizer designed to bring you professional quality results, without a learning curve that hinders your creativity (regular $79 USD).

Sytrus

(FL/VSTi) – powerful FM, RM & subtractive synth that recreates the classic FM sound by using a harmonically rich modulating oscillator (regular $179 USD).

DirectWave

(FL/VSTi) – multi instrument/velocity sampler that will take your sampling to new heights (regular $99 USD).

Gross Beat

(FL/VSTi) – real-time, audio-stream pitch, position and volume manipulation effect (regular $99 USD).

Hardcore

(FL/VST/AU) – collection of 10 classic effects designed with Guitarists in mind: Distortion, Chorus, Flanger, Phaser, Reverb, Delay, Noise Gate, Equalizer, Compression and Modulator (regular $99 USD).

Harmless

(FL/VSTi) – additive synthesizer dedicated to subtractive synthesis (regular $79 USD).

Ogun

(FL/VSTi) – produces exceptionally rich metallic and shimmering timbres, although it's not limited to this genre (regular $79 USD).

Juice Pack

(VSTi) – collection of our finest FL Studio plugins in VSTi format. It contains Delay, Delay Bank, EQUO, Flangus, LovePhilter, Multiband Compressor, Notebook, Parametric EQ, Parametric EQ 2, Spectroman, Stereo Enhancer, Vocoder, Wave Candy & Wave Shaper (regular $99 USD).

Edison WAV editor

(VSTi) – fully host-integrated audio editing and recording tool that loads into any VSTi compatible effects location and will then record or play audio from that position (regular $99 USD).

Slicex (VSTi)

– VSTi drumloop slicer & re-arranging tool which uses advanced beat detection algorithms to slice song/percussion samples into pieces (regular $99 USD).

Vocodex (VST)

– simply one of the best sounding vocoders on the market today (regular $99 USD).
The Image-Line Yard Sale ends midnight August 31, 2010.
Visit the Image-Line Online Shop to take avantage of this offer.