Imaginando has partnered with the Lisbon based analog synthesizer repair workshop Analog Repair to bring DRC to the market.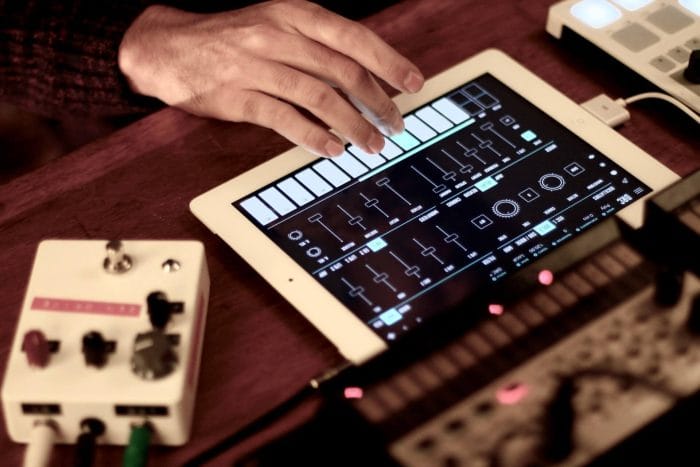 DRC is a virtual analog polyphonic synthesizer that recreates the characteristic sound of an analog synthesizer targeting all music makers, from novices to professionals, proving a minimal but powerful set of parameters, for limited but incredible sonic capabilities.

While the sound may invoke the vintage characteristic of an analog synth, the user interface was developed with the XXI century in mind. Large controls, even on a phone sized screen, allows users to easily interact with synth parameters on a uncluttered interface.

Available on iOS / Android and VST

Following the paradigm of all the existing products, DRC is available for both iOS and Android, smartphone or tablet devices as well as in the VST 2.4 plugin format for both Mac (x64) and Windows (32/64 bit) operating systems.

Cloud Preset Syncing

DRC features a unique cloud preset syncing system that allows a user to save patches to its account and sync with the cloud. This allows the user to later sync the patch with other devices or computer running DRC, hassle free. No more audio exports or dropbox sync.

Integrated chorder

Besides the common piano keyboard layout, DRC integrates a unique chorder layout that allows users to easily explore chords. In each side of the chorder, a strum area allows to easily play with scales making it easy to achieve beautiful and harmonic sounds.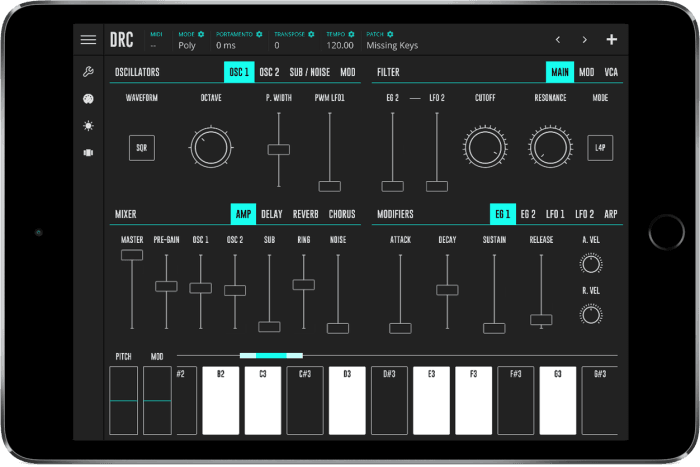 DRC features
Up to 8 voices.
Two main oscillators, one sub-oscillator and one noise source.
Detune, sync and ring modulation.
4 pole self resonant low pass Ladder Filter.
2 pole multi-mode filter (LP, HP, BD, NOTCH).
2 LFO's and 2 analog modeled envelope generators.
Stereo Tape Delay with time modulation.
Lush Stereo Reverb with modulation and self growing decay.
True stereo, analog modeled multi mode chorus.
Arpeggiator with 4 modes, tempo sync and hold function.
MIDI compatible (in/out/ext sync/clock out).
Audiobus and Ableton Link ready (iOS only).
A full operation manual featuring synthesis tips is available.
DRC is available as a fully functional 7 day trial, after which you'll need to purchase it if you want to continue using it.
During the 30-day promo period, the price for all versions is reduced by 50%. On iOS/Android it is now $15 USD and it will be $30 USD after the initial 30 days. The VST version will cost $25 USD after the first seven days and $50 USD after the first 30 days.
More information: Imaginando