Impact Soundworks has announced that it is now offering USB shipping for its sample libraries.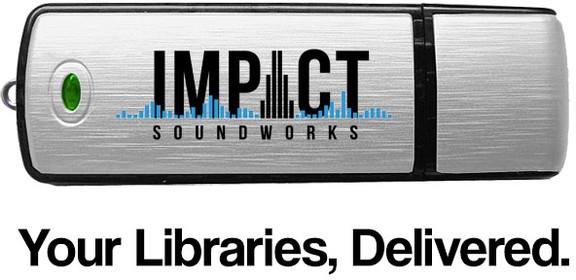 Now available to all customers worldwide is our brand-new USB drive shipping option. For a small fee ($25 in the U.S., $30 international) we will load your entire sample library purchase on to a high-quality flash drive and ship it straight to your door.

Advantages:

All libraries are pre-extracted and ready to be copied to your hard drive.
Your entire order will contain the very latest patches and sounds fully updated.
No need to worry about interrupted or incomplete downloads.
No messing around with RAR extraction.
Perfect for larger orders or if you have a slow connection.

You can select the USB shipping option in your cart while shopping at our website, or on the checkout page. Please allow 3-5 days for delivery in the United States, and up to 11 days for international orders (depending on location).

We hope you will find this new option useful and convenient – it's the first of several new upgrades to our e-commerce platform, the rest of which are coming soon!
More information: Impact Soundworks