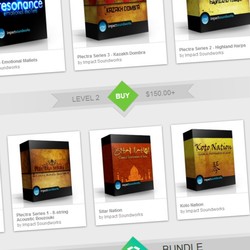 Impact Soundworks has announced the launch of its Modern Composer Bundle, offering a collection of 20+GB of Kontakt samples for a limited time.
Through July 30th, musicians can purchase a bundle of Resonance: Emotional Mallets, Plectra Series 2: Highland Harps, and Plectra Series 3: Kazakh Dombra for only $75 (50% off.)

However, for $150, the bundle expands to include:

Acoustic Revolutions Vol 1: Adult Contemporary Guitar Loops
Sitar Nation: Classical Instruments of India
Koto Nation: Classical Instruments of Japan
Impact Steel: Cinematic Metallic Percussion
Plectra Series 1: 8-string Acoustic Bouzouki

A $400 value for 65% off!

All of these Kontakt libraries come as digital downloads through the new Bundle Dragon platform.
The sale ends July 30th, 2013.
More information: Impact Soundworks / Modern Composer Bundle