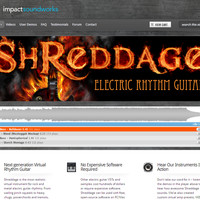 Impact Soundworks has launched its new Shreddage website, providing product information, video tutorials, audio demos, and user content for the Shreddage family of electric guitar and bass sample libraries.
The website was launched alongside new open-source, cross-platform versions of "Shreddage: Electric Rhythm Guitar" and "Shreddage Bass: Picked Edition" in the SFZ format.

Impact Soundworks, a joint venture between composers Andrew Aversa and Wilbert Roget, II, was founded in 2007 with the goal of creating innovative, affordable and unique sample libraries that are "designed with composers in mind."

"We've received so much great feedback from users of Shreddage, from composers, producers, and even rock guitarists; however, requiring the Kontakt software made it inaccessible for many who would have loved to use it," said Aversa, designer of the libraries. "We're thrilled to finally be offering our Shreddage instruments to all musicians, on any computer or operating system, with no barrier of entry."

"Shreddage" and its expansion "Shreddage X" were originally released for Native Instruments Kontakt and contain over 2,000 recordings of a 6-string electric guitar recorded direct-in. The libraries contain all crucial articulations for rhythm playing, including powerchords, single notes, multiple palm mute variations, up to 8x round robins, legato slides, tremolo picking, vibrato, pinch squeals and more. "Shreddage Bass" takes a similar approach to the picked electric bass.

The open-source SFZ format can be loaded into most any sampling software, such as LinuxSampler (www.LinuxSampler.org), which itself is open-source, 32/64 bit and compatible with Windows, Mac and Linux. Sample editor Baard Wolvik faithfully converted the Shreddage libraries to SFZ, maintaining virtually all features and functionality.

A copy of Peavey's ReValver HPse virtual amp software is included with each copy of Shreddage, featuring custom presets and a discounted upgrade path to their flagship ReValver HP and ReValver MKIII.V products.
The sample libraries are available in the SFZ format at a discounted price of $49 USD. Existing users of the Kontakt version can crossgrade for free.
More information: Impact Soundworks