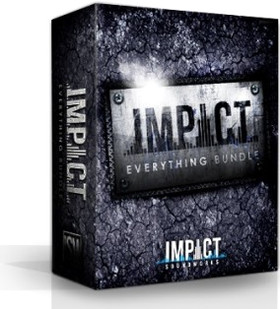 Impact Soundworks has announced the launch of its 2013 Winter Sale, offering a 30% discount on all its instruments and bundles.
Through December 18th, our entire catalog is discounted 30% using the coupon code "ISWHOLIDAY2013". This is available worldwide and valid for ALL instruments and bundles.

Additionally, we've created a new collection called "Impact: Everything", a bundle that includes every one of our Kontakt libraries to date.
The Impact: Everything bundle includes:
Acoustic Revolutions Volume 1.
Curio: Cinematic Toy Piano.
Forest Frame Drums.
Groove Bias: Vintage Drum Sounds.
Impact Steel: Cinematic Metallic Percussion.
Juggernaut: Cinematic Electronic Scoring Tools.
Koto Nation: Classical Instruments of Japan.
Plectra Series 1: 8-string Acoustic Bouzouki.
Plectra Series 2: Highland Harps.
Plectra Series 3: Kazakh Dombra.
Resonance: Emotional Mallets.
Shreddage 1 Complete Edition.
Shreddage 2: Absolute Electric Guitar.
Shreddage Bass: Picked Edition.
Sitar Nation: Classical Instruments of India.
The bundle is available to purchase for $399 USD (60% off combined list price).
More information: Impact Soundworks