Impact Soundworks has announced the release of Bravura Scoring Brass, a complete collection of orchestral brass ensembles, soloists, and aleatoric FX recorded with stunning depth in a large scoring studio.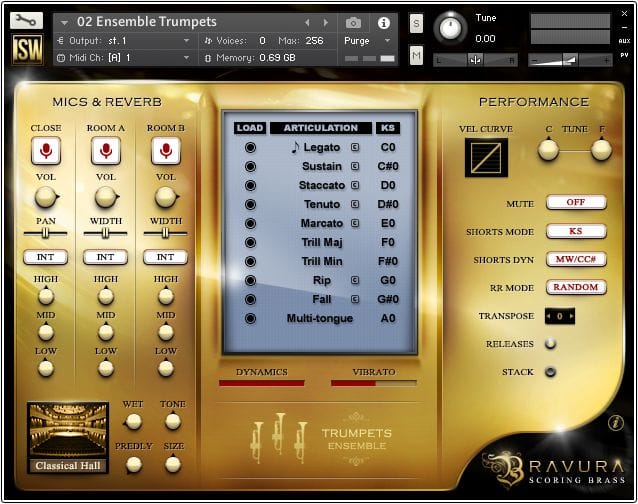 Bravura Scoring Brass is our new flagship instrument for orchestral scoring and music production. Featuring 55,000+ samples of brass ensembles, soloists, and an extensive set of aleatoric FX, this is perhaps the most complete and affordable brass collection ever released.

Every instrument and ensemble was recorded in a tight scoring studio with three mic positions, allowing you to blend Bravura Scoring Brass into any mix and with any other libraries. A stylish and powerful interface lets you tweak every aspect of the patches to taste, and our custom Chordmaker & Orchestrator patches will let you create fantastic brass parts in seconds.
Bravura Scoring Brass features
55,000+ samples in 16 and 24-bit.
Horn, trombone, trumpet & low brass ensembles.
Solo trumpet, picc trumpet, trombone.
Solo french horn, tuba, flugelhorn.
True legato for all instruments.
Staccato, tenuto, marcato, rips, falls.
Trills, flutters, multi-tongues & vibrato.
Aleatoric FX, figures & phrases.
Recorded in a large scoring studio.
Powerful & beautiful interface.
Compatible with free KONTAKT PLAYER.
Bravura Scoring Brass is available as a complete bundle with Kontakt Player compatibility for $349 USD. An additional 15% crossgrade discount is available for owners of Rhapsody and Pearl libraries. A variety of a la carte options is available starting at $39 USD for solo instruments.
More information: Impact Soundworks