Impact Soundworks has announced the release of Shreddage 2 IBZ, an all-new instrument for Kontakt & Kontakt Player, featuring the authentic sound of a legendary Japanese 7-string electric guitar ideal for rock & metal.
SHREDDAGE 2 IBZ incorporates everything we've learned from our other critically-acclaimed sampled guitars, plus feedback from thousands of users. This a brand-new instrument with over 50% more samples than Shreddage 2, and an all-new Kontakt engine redesigned from the ground up.

We've enhanced the intelligent playback engine, allowing for truly realistic virtual performances. We've also added more tweaking options than ever before, so you can deeply customize the instrument to your music setup. Lastly, a custom FX rack will give you instant gratification with high-gain amp/cab and distortion presets – no external plugins needed.

Of course, what would all this mean without a killer tone? The sound of IBZ is totally different from Shreddage 2: bright, biting, and aggressive. Perfect for screaming leads, blistering rhythm riffs, and dueling solos.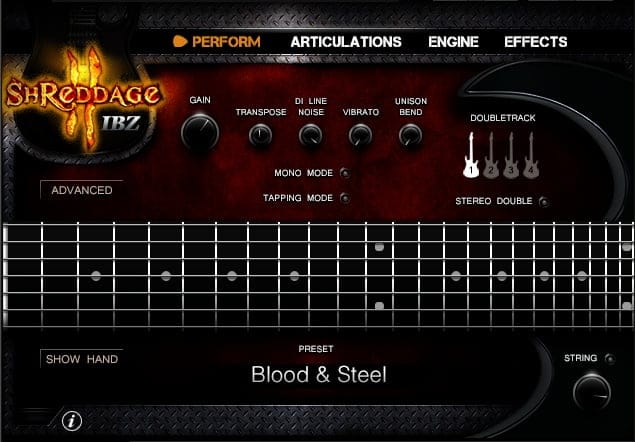 Shreddage 2 IBZ features
Brutal 7-string electric guitar tuned to drop G.
Over 13,000+ 24-bit samples.
Bright and aggressive DI (clean) tone.
Up to 8x RR variations per note.
Multiple picking modes/behaviors.
Up to 4x quad tracking available.
Single notes, powerchords, FX slides.
Vibrato, portamento slides, hammer/pull.
Up to 6x palm mute layers, harmonics, tremolo.
Virtual fretboard display with deep tweaking.
Custom-built FX rack with amp + cab sim.
Hi-gain FX presets for instant gratification.
Completely customizable mapping.
New ADVANCED tab to go under-the-hood.
KONTAKT PLAYER compatible.
Shreddage 2 IBZ is available for the introductory price of $99 USD for Shreddage 2 owners, or $119 USD for the standalone version, through October 10th, 2015. Both versions are Kontakt Player compatible.
More information: Impact Soundworks / Shreddage 2 IBZ