Impact Soundworks has announced the release of Shreddage 3 Legacy, making available the legendary Shreddage 1 guitar in the Shreddage 3 engine with a greatly-expanded sample set.
The original Shreddage library set a new standard for virtual guitars, proving that it was possible to create truly realistic rhythm guitar parts "in the box".

Today, we're building on that Legacy by bringing the library to our modern Shreddage 3 engine. But this is much more than a script & UI overhaul: using state-of-the-art editing software, we've greatly expanded the sample pool with offline pitching, stretching, and manipulation.

The result is a fully-featured, extremely playable 6-string guitar with per-fret, per-string sampling and more range than ever. The classic "Standard" tone, drop tuned to Bb, is perfect for heavy rock & metal.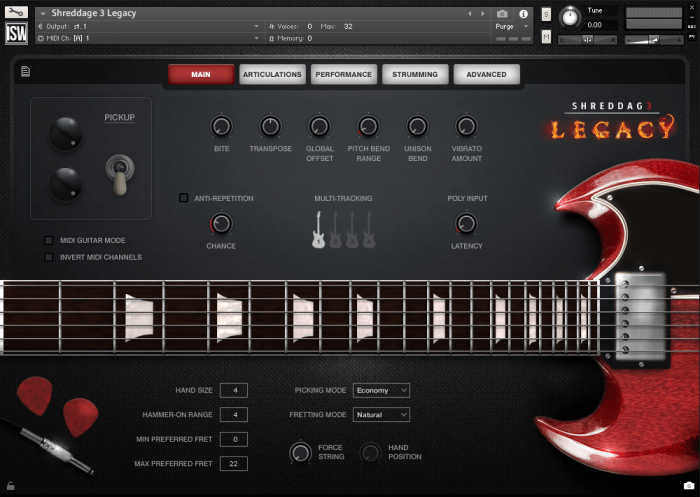 Shreddage 3: Legacy features
Sustains, powerchords, mutes, chokes.
Hammer-on/pull-off, tapping, slides.
Grace notes (up/down), tremolo, harmonics, pinch squeals.
Rakes, release noises.
TACT 2.2: Map, trigger, and edit articulations any way you want.
CONSOLE: Modular FX rack & mixer with 30 modules and 5 channels.
Shreddage 3 Legacy is available for $119 USD. Owners of previous versions of this library (like Shreddage 1 or Shreddage 2 Classic) can save up to $80 USD.
Legacy runs in the free Kontakt Player 5.7 or higher and is fully NKS compatible.
More information: Impact Soundworks