Impact Soundworks has announced the release of the Stroh Violin, a curious acoustic instrument invented by electrical engineer John Matthias Augustus Stroh.
Stroh conceived of a violin constructed with a metal resonator and horn, producing a louder, brighter sound compared to a traditional wood violin. He patented his design in 1899.

While this unique modification of the violin never overtook the popularity of perhaps the most classic orchestral instrument, the stroh violin is played by musicians worldwide – particularly in Europe – for folk music. It is beloved for street performance, thanks to its powerful tone that requires no amplification to be heard even in a noisy area.

Naturally, we sampled it! The Impact Soundworks Stroh Violin features this instrument in a single, elegant, lightweight Kontakt patch with modern trimmings like a sequencer and 'grit' effects. The result is a fun and surprisingly versatile virtual instrument, great for everything from rhythmic underscore ostinato to comical pizzicato, folk mockups and more. Special thanks to performer Kalle Ricken and designer Richie Albert!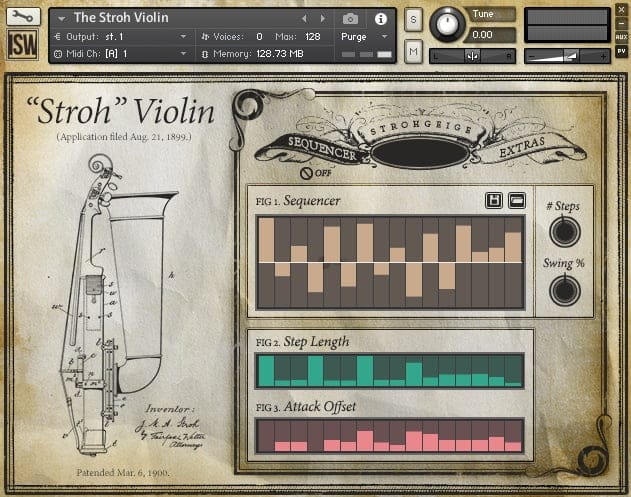 Stroh Violin features
Authentic multisampled stroh violin.
3x dynamic layers / up to 5x round robins.
Sustain, spiccato & pizzicato articulations.
Customizable mapping.
3-layer rhythmic sequencer / gate.
Quick controls for grit, dirt and vinyl.
Lightweight and fun to use.
The Stroh Violin for Kontakt is available as a free download. Requires Kontakt 5.4+ full version.
More information: Impact Soundworks / Stroh Violin