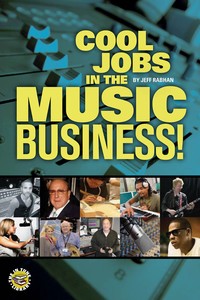 In Tune Partners has announced it has published Cool Jobs In The Music Business, a guide for anyone interested in a career in the today's and tomorrow's rapidly changing music business.
Industry veteran and chair of NYU's Clive Davis Recorded Music program Jeffrey Rabhan explains career options in the music business through the experiences of some of the top DJs, educators, engineers, executives, journalists, managers, music supervisors, producers, promoters, publicists, publishers, and technicians. Starting from his own experience guiding the careers of such artists as Kelly Clarkson, Lil' Kim, Michelle Branch, DMX, and Jermaine Dupri, Rabhan outlines the essentials of today's business while looking into the future.

Cool Jobs In The Music Business will show you how various sectors of the business operate so that you may best determine where your skills are suited. Jermaine Dupri, who wrote the foreword for this book, says: "You need to know the world you're bringing your music into. You need to know your industry. This book is monumentally important, because it helps you do just that… Jeff Rabhan knows this industry inside and out and has mastered the challenge of teaching something that can't be trapped in the classroom."

Conducting dozens of exclusive interviews, the author draws unique insights and advice specifically targeted at young people from those currently in the business. Rabhan starts with an overview of various categories in the industry, then details all of the jobs within that category, from entry level to top executive. The DVD includes audio and video footage of the author and additional interviews.
The book is available from distributor Hal Leonard, priced at $19.99 USD.
More information: Hal Leonard Books