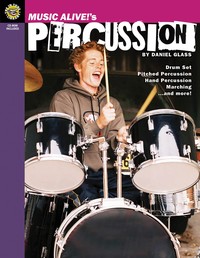 In Tune Partners has announced it has published Music Alive!'s Percussion, a comprehensive introduction to drums and percussion, from hand drums to digital kits, and everything in between by award-winning author, columnist, performer, bandleader, and clinician Daniel Glass.
In this well-illustrated guide, Glass covers the history of the drum, tracing the development of the modern drum kit while also discussing hand, concert, marching, and electronic percussion. In addition to breaking down the equipment and accessories available to today's young drummer, Glass offers notated lessons that explore basic rudiments as techniques used in classical, world, jazz, rock, and other genres.

Glass is passionate about his work and shares this passion, his personal experience and wisdom with his readers to help them get the most of their percussive journey. The book is not only an inspiring read, it also serves well as a reference tool for particular instruments or styles of music.

A noted historian as well as performer, Glass profiles great drummers from the jazz age through the present day. The included DVD-ROM offers high-quality footage from Glass' clinics and performances, the author's audio demonstrations of more than 50 music examples, a printable rudiments poster, and more.
The book is available from Hal Leonard Books, priced at $19.99 USD.
More information: Hal Leonard Books