Electronic duo Infected Mushroom and Polyverse have launched version 1.0 of Manipulator, a real-time vocal processor boasting an array of 10 unique pitch shifting and timbre bending effects.
After the initial beta period, Manipulator is faster, more accurate, powerful and stable than before.
Manipulator can warp the sound of vocals and melodic instruments beyond recognition, or subtly add character to a performance. It can even be played via a keyboard to control pitch on the fly, as well as a slew of other effects. The result is a creative way to take a natural voice and transform it into ethereal choirs, guttural granular textures, twisted robotized voices, and even more. Infected have used Manipulator extensively in their new album, Return To The Sauce, including their track with the new processor's namesake.
The algorithms of the plugin are based around 5 main effects: pitch, formant and harmonics shifting, FM and grain alternation. Supporting effects such as glide, smear, stereo and detune are also included.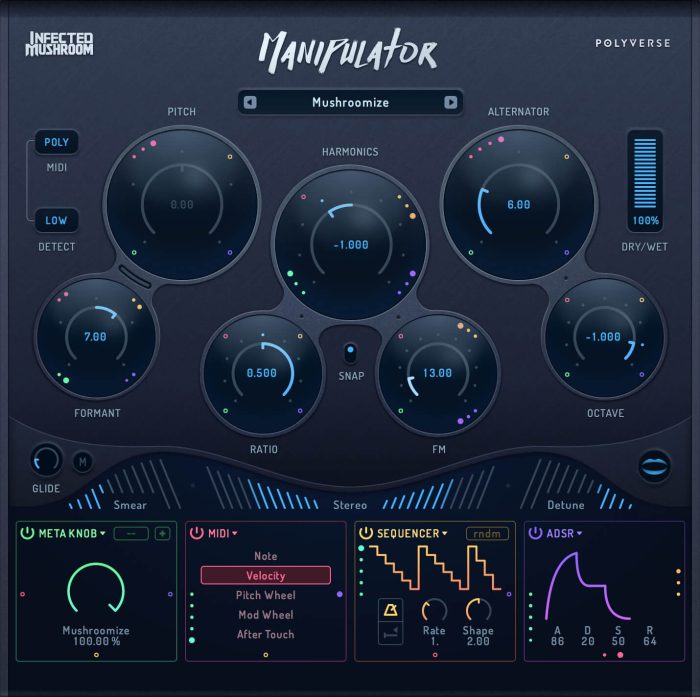 The real-time capabilities of this plugin make it perfect in live situations for vocal performers and instrumentalists. Whether in the studio or on stage, users can play their MIDI controller to change the melody of a performance at zero latency. This feature also enables on-the-fly harmonies, with up to 4 voices of polyphony.
Manipulator features
Bend and sculpt your sounds into new ones.
Alter timbre and pitch of vocals and instruments.
10 Different effects with endless combinations.
Change melodies of existing performances.
Create harmonies with up to 4 polyphonic voices.
Extensive modulation capabilities.
Real-time processing for live performance.
Supports VST / AU / AAX plug-in formats.
Manipulator for Windows and Mac is priced at $149 USD. Until March 7th, 2017, it has an introductory price of $99 USD (33% off regular).
The plugin is available from Polyverse Music and at distributor Plugin Boutique.