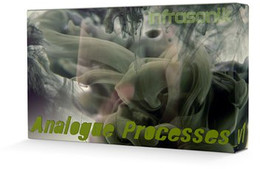 Infrasonik has released Analogue Processes v1, a downloadable sample pack for Ableton Live.
Infrasonik's Analogue Process v1 provides a fresh palette of percussion including deep sine wave kicks, raunchy snares, lo fi claps, and undefinable percussive hits recorded using some of the finest names in analogue outboard gear including Rupert Neve, Chandler, API, Vintech, and Purple Audio.
Analogue Processes v1 features
42 Impulse Banks (High Hats, Claps, Kicks, Vox, Snares, etc.), 39 Impulse kits with modular processing chains, 15 Channel strips with analogue style dynamics and EQ, 15 EQ chains modelled on vintage EQs curves and responses, 39 Midi clips.
Modular processing chains allowing fast and easy swapping of "processing modules" between different kits and tracks.
A maximum of 4 macro controls on the racks let users quickly dial in an inspiring setting, and is perfect for DJing or live performance use.
Effects are balanced to avoid level fluctuations when doing effect manipulations in a live performance setting.
All kits have a carefully balanced gain staging to prevent digital distortion.
The final output level is set for a maximum peak value of -3 DbFS.
Impulse kits are carefully gain staged to leave at least 4-6 DB of headroom between each device in the dsp chain for a super clean processing and no digital distortion.

Dynamics and EQ module.
FX module.
Limiter and final gain staging module using Saturator and the Utility effects.

Limiter module at the end of each Impulse kits dsp chain prevents the chain's final output from clipping in a Live performance DJ setting.
The kits are designed to have 10-12 DB of dynamic range.
All sounds are 24 bit.
Analogue Processes v1 is available as an instant download for 41.50 EUR. A demo Live pack is available for download.