Impact Soundworks has announced the release of its definitive SID chip plugin inSIDious, a virtual synthesizer created by Mike Clarke that brings the iconic sound of the Commodore 64 to any DAW.
The Reaktor Player powered instrument features 350 sounds by the most famous C64 composers and demoscene musicians, like Chris Huelsbeck, Rob Hubbard, Martin Galway, Jason Page, Mark Knight, and more.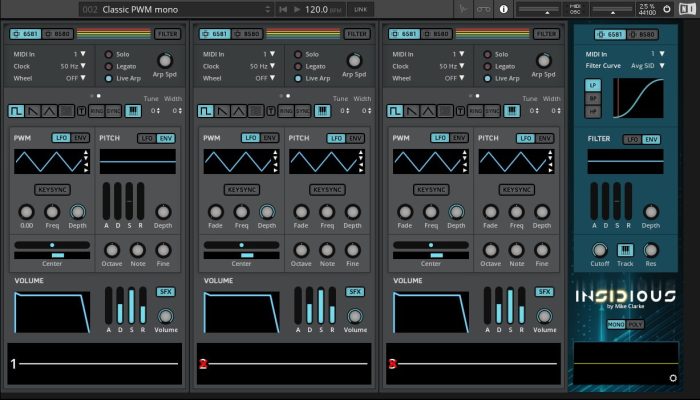 Created by Mike Clarke, whose own career creating audio for games spans back to the 80s and includes many years with the storied developer PSYGNOSIS, inSIDious recreates all the classic tones of the SID and its many idiosyncratic quirks with meticulous detail.

With its easy-to-use interface, users can generate blazing arpeggios, soaring leads, chunky drums, powerful basses, and rumbling noise, or use the over 300+ presets which include both authentic and modern sounds that push the SID to its limits.

The synth is powered by three independent oscillators each with multiple waveforms, LFOs, envelopes, and of course a sequencer which can be used to create iconic arpeggios and sequences that this chip is known for. The filter also sports plenty of options including multiple models, modes, and curves, with all of the warmth and distortion of the original hardware.

Plus, there are extensive options to adjust the sound and achieve even more realism – warts and all – such as circuit noise and 'quantized' oscillator modulation.
inSIDious features
350 snapshots with classic and modern styles, including basses, leads, drones, perc, loops and fx.
Artist Banks from LMan, Jason Page, Rapture, Chris Huelsbeck, Rob Hubbard, Jammer, Martin Galway, Mark 'TDK' Knight.
Oscillators:

100% authentic 6581 & 8580 variants.
Pulse, saw, triangle, noise waveforms.
Step sequencer for classic arps.
Adjustable internal mod clock.
Pitch LFO+Env, PWM LFO+Env, Amp Env.

Global Filter:

6581 and 8580 models.
Multimode (LP / BP / HP).
6 selectable 6581 curves.
LFO, Env, keytracking.
inSIDious is on sale for the intro price of $49 USD through the end of July, 2020 (regular $64 USD).
More information: Impact Soundworks