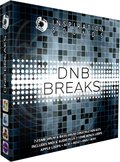 Inspiration Sounds has released DNB Breaks, an incredible new drum and bass drum construction system produced by Session Drummer Callum Hodgkins.
DNB Breaks allows you to create an infinite number of DNB drum variations for your DNB and Jungle tracks. One of the most sensational features of DNB Breaks is that for every audio drumloop, there is a corresponding MIDI file so you can put these grooves through your own gear to get the exact sound required. For those less technical, the audio loop can be mixed and mashed to suit your requirements.
DNB Breaks features
725MB of MIDI Files and Samples and Loops in multi-format created specifically for Drum and Bass and Jungle productions, 391 x DNB Audio Drumloops, 391 x MIDI Drumloops & 191 x DNB Drum Hits (One-Shots).
110 MB of bonus melodic loops that are featured in the MP3 demo.
The majority of the MIDI files follow GM drum settings, which is ideal for use with BFD, EZDrummer as well as external sound modules, drum machines and software drum machines.
DNB Breaks is available for ££29.95 / $59.07 USD.
Visit Inspiration Sounds for more information and audio demos.