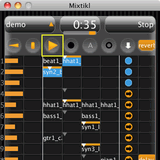 Intermorphic has released Mixtikl 2, a generative music mixer for mobile, web & tweets.
With its magical mix of sound sources, FX and music engines, Mixtikl 2 has firmly ushered in the "tweet mix revolution". You may not believe your ears, but the 140 characters of a tweet really are easily enough for Mixtikl to play infinite music mixes of a quality that will astound and entertain you. We call the tweets mix "tikls" ["tickles"]. It plays tunes & sound fx tikls, too!

How is it done you ask? The boffins at Intermorphic built upon the vector audio techniques they pioneered back in 2000 where they found a way to deliver a sound in 300 bytes. Now they've found a way to play entire 12 track mixes in a tweet, loaded with FX and mix settings too!

It is a snap to create your own mix tikls, from chillout ambient to ear bashing beats, which you can tweet, email and embed in webpages.

Our generative music heritage means Mixtikl 2 presently excels at ambient mixes, but we also want to make sure it does what you want – let us know!
Mixtikl 2 for Mac OS X and Windows desktop (launch price of $19.99 USD) comprises a stand-alone version, a VST and AU plug-in for music sequencers, and a plug-in for web browsers. The Mixtikl browser plug-in allows tikls or more advanced and customised mixes to be played in a web page. Mixtikl 2 for Windows mobile (launch price of $4.99 USD) is available at launch for both Windows mobile Pocket PC and Smartphone.
Mixtikl 2 for iPhone / iPod touch is to be submitted to Apple iTunes within days.
More information: Intermorphic / Mixtikl