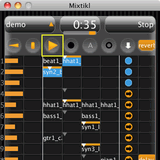 Intermorphic has released version 2.0.1.0 of Mixtikl, a generative music mixer for mobile, web & tweets.
Changes made have primarily been concerned with improving usability, and making it much easier to get started with a new mix.
Changes in Mixtikl v2.0.1.0
New Random and New Empty have been added to all the included Tiklpaks; selecting New Random will create new mix populated from all the available content.
You can add your own New Random files, where generative and audio loop content is identified in the underlying New Random.mixtikl mix file by: Gen content vol=88, Audio loops vol=87. If tempo is set to 0 then tempo will be randomised, too.
Get Paks (was first item in mixes) now moved to More Mixtikl menu, again to simplify making new mixes.
Tapping top _right_ in Mixer screen does not now load the main menu (which was confusing), and the tooltip text is now yellow to show it relates to the highlighted cell.
New "Clear EVERYTHING" added to Actions menu, so you can clear everything in a mix back to default settings.
In the Apps menu the Partikl entry has been renamed to "File Player" (which better reflects what it does, and where advanced access to Partikl settings for a file can be accessed).
File Player layout improved.
Windows Mobile: Product Key can now be entered.
More information: Intermorphic