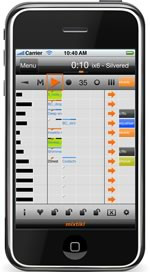 Intermorphic has released version 2.5.0.2 of Mixtikl, a generative music system for mobile, tweeting, web & desktop.
Mixtikl lets you easily create stunning generative music mixes, performances & new ideas from mixing together up to 12 tracks of generative music, audio & MIDI loops plus many customisable sound FX.
Changes in Mixtikl v2.5.0.2
iDevice: Added support for Sonoma AudioCopy and AudioPaste (as alternative to Apple General Pasteboard – both supported).
iDevice: Free – 3 AL Collections (15 AL Tiklpaks – previously $2.97) via "Loop Essentials" in-app download.
iDevice: Fixed: losing of GenBars / CellRepeat range settings when rotating.
iDevice: Fixed: iPad issue using in-app store in Portrait mode.
New checkbox filters in New Mix screen make it easier to see/select only the Tiklpaks you want to use.
More customisable randomisation settings in the New Mix Settings screen.
Improved controls in mix Tempo and Root screen.
Clear Everything and Clear All Track Settings now set all track generative bars+range / repeat+range values to zero.
Fixed: Import of mixtikls from email.
More information: Intermorphic / Mixtikl