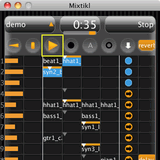 Intermorphic has released version 1.5.1.2 of Noatikl and version 2.0.1.4 of Mixtikl, two generative music tools for Windows and Mac.
Changes in Noatikl v1.5.1.2
Re-introduced Noatikl "reset all column widths" menu item, that had gone missing from the menu.
Improved random number generator within the music engine.
Miscellaneous performance improvements and stability fixes to match the Noatikl engine embedded in Mixtikl.
Changes in Mixtikl v2.0.1.4
iPhone/iPod play through main speaker if headphones not plugged in (or headphones if headphones plugged in.).
Removed iPhone/iPod toolbar to make all screens display bigger; display OK/Cancel buttons in the FX etc. dialogs.
Improved random number generator (random mixes now far more random, embedded Noatikl engine improved for all randomly weighted decisions).
Fixed file sharing to/from Windows XP.
Mixer: top left panel displays "Menu…" or Cancel text.
Mixer: piece title in top right, overlaid with tooltip for a few seconds, removed the tap-hold messages.
Mixer: swap around Actions and EQ items in skin, and introduce "i" cell to replace the pan change cell item.
Mixer: pressing "i" in main menu, displays the "Mixtikl" YouTube tutorial forum.
Mixer: tap top left cell to toggle volume/pan display.
Mixer: Fixed bugs related to Randomize Column and Randomize Track macros.
In the Apps menu, renamed the "File Player" entry back to "Partikl".
More information: Intermorphic