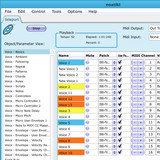 Intermorphic has released updates for its generative music tools for Windows and Mac, Noatikl and Mixtikl.
Noatikl is a powerful, easy to use generative music software tool that helps you come up with new music and song ideas – and your own generative music.

The open Mixtikl system uniquely lets you easily mix together generative "parts" with loops & sound FX to create your own custom mixes. Mixtikl 2 is already packed with power and yet is still young as a tool.
Changes in Noatikl v1.6.0.5
Fixed – Noatikl problems registering Noatikl VSTi (especially on Mac, probably Windows).
Changes in Mixtikl since v2.1.0.10
Intermittent crashes that occurred when loading new/open mixes (affected all platforms).
VSTi registration problem that might have affected Mixtikl.
Improved: Updated the Partikl "Most Recently Used" (MRU) file dialog (e.g. as used when launching Partikl) to tell user what to do if no items are in the MRU list.
Improved: Speeded up display of most dialogs.
More information: Intermorphic