Intuitive Audio has introduced Echo Studio, a powerful and versatile multi-tap delay plugin for Windows and Mac.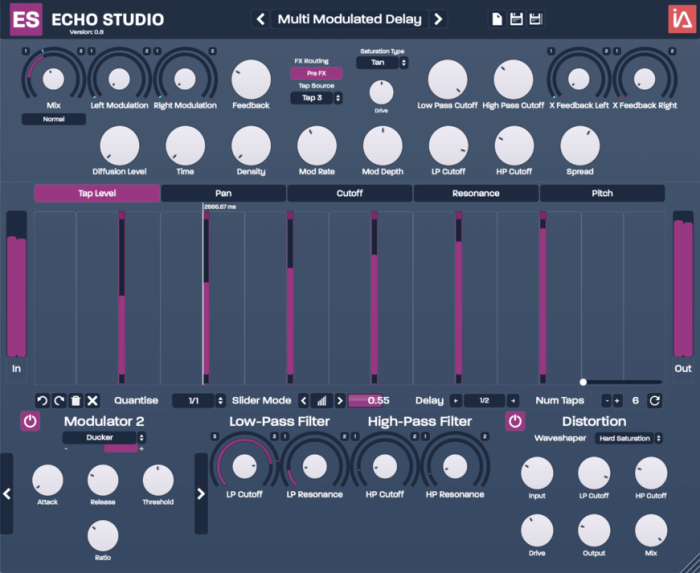 Echo Studio allows you to use up to 32 taps to create truly unique sounding delays. Each tap has its own FX processing chain which allows you to set the Delay Time, Gain, Panning, Low Pass Cutoff, High Pass Cutoff, Resonance and Pitch, all of which can be controlled with ease from the Delay Tap Grid.

Echo Studio also comes with an extensive Global Effect Engine, including Feedback FX processing, a Distortion Engine, Diffusion and Global Filtering. The flexible Modulation functionality allows you to assign up to two different Modulation Sources to modulate anything from the Delay Time, Global Filter parameters or Feedback Panning, providing you with even more tools to help sculpt your delays.
Echo Studio features
32 Delay Taps with control over the Gain, Panning, Low Pass Cutoff, High Pass Cutoff, Resonance and Pitch Shift of each tap.
Feedback FX Section which allows you to control the Tap Source, Drive, Low Pass and High Pass Cutoff, as well as the Stereo Placement.
Reverse Delay Mode, which reverses the delay for each Tap on the Grid.
Extensive Modulator Section, with the ability to choose from ADSR, LFO and/or Ducker to modulate parameters.
Flexible Modulator editing, with the ability to assign and control up to two different modulators for each enabled parameter.
Diffusion Section, with functionality to control the Level, Time, Density, Modulation and Filtering of Reverbs.
Distortion Engine with 7 different Waveshapers, Pre and Post gain, Drive and Low Pass and High Pass Cutoff.
Intuitive Global Tap Editing allow users to quickly edit Tap Parameters.
Echo Studio is available now for £45 GBP inc. VAT. It comes in VST/VST3, AU and AAX plugin formats and a free demo version is available (valid iLok account required).