Intuitive Audio has released version 1.5 of Chord Composer, a powerful chord progression plugin for Windows and Mac.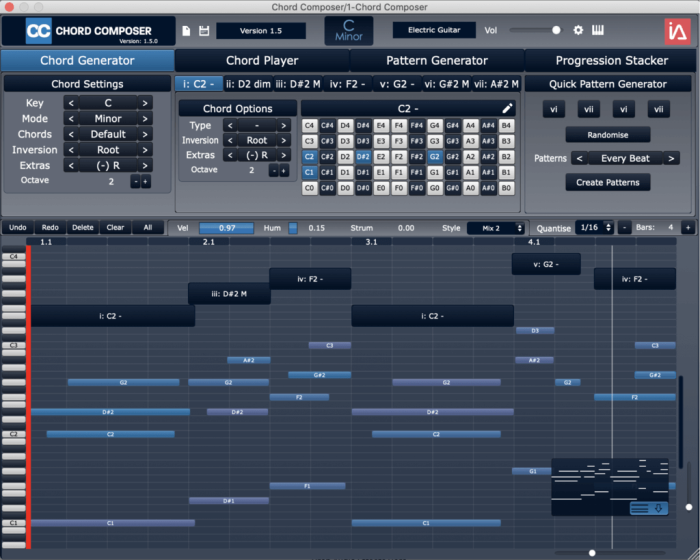 The update improves on existing MIDI and Chord Editing, and also introduces Sounds, Guitar Mode and Chord Building.
The Chord Composer is an extremely powerful Chord Progression Plug-in. Not only does it allow you to quickly and intuitively generate Chord Progression ideas, but it also provides you with limitless functionality to edit and fine tune your progressions.

Whether you are new to Music Theory, or a seasoned Composer, we are confident that the Chord Composer will prove to be an invaluable tool in your Music Production Process.
Changes in Chord Composer v1.5
Chord Composer now plays sounds, and comes with 30 different samples for users to compose with. You can still control your VST Instruments using the Chord Composer by re-routing the MIDI Output within your DAW.
Guitar Mode allows you to create Guitar MIDI Chord Progressions. You can also change the voicings of your Guitar Chords by changing the Fret Start Position or Drop Tuning.
Chord Builder is the first phase of MIDI Analysis introduced to the Chord Composer, and allows you to add or remove notes from the chords in the Piano Roll. The Chord Builder analyses the MIDI Notes within your chord, and tells you the Type, Inversion and Extra Notes, if a valid chord is found. For now, you can only create chords which fit the Key and Mode you are working on, but Modal Interchange Functionality will be introduced in a future update.
Chord Composer is available in VST, AU and AAX plugin formats, priced at £40 GBP incl. taxes. The update is free for existing users.