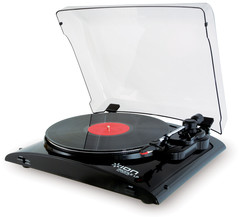 ION has announced a new series of vinyl-transfer turntables: PROFILE LP, PROFILE FLASH, iPROFILE and PROFILE EXPRESS.
Each new turntable in ION's PROFILE series is designed with contemporary, low-profile looks. PROFILE LP, PROFILE FLASH and iPROFILE are finished in sleek, piano black, while PROFILE EXPRESS is finished in sleek silver.

Each model enables consumers to turn the music on their vinyl records into flexible MP3 files they can listen to on a computer, load onto an iPod or record to CD. All models can convert virtually any standard record, including 33, 45 and 78 RPM.
New Vinyl-To-Mp3 Turntables
PROFILE EXPRESS and PROFILE LP are LP-conversion turntables that offer a standard USB connection, enabling users to connect to a Mac or PC. Once connected, users can easily and quickly transfer music directly to an iTunes music library as MP3s, using ION's exclusive EZ Vinyl Converter software. PROFILE LP also contains a protective dust cover.
PROFILE FLASH enables users to convert music on records to MP3s without connecting to a computer. PROFILE FLASH records music directly onto an SD card or USB flash drive for listening in portable music players and mobile phones with micro SD slots.
iPROFILE records directly from vinyl to an iPod without requiring a computer connection. The LP-conversion system features a turntable with a Universal Dock for iPod.
More information: ION