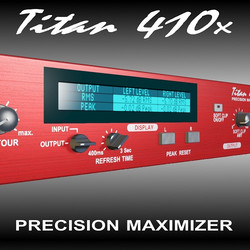 iox AudioWare has released Titan 410X, a non-destructive loudness maximizer Rack Extension for Propellerhead Reason.
Titan is designed to sculpt your music to maximum levels, fullness, and clarity without pumping artifacts or loss of transients. It uses a non-destructive two stage gain and "contour" control to achieve high average loudness while enhancing or maintaining low level details.

Although originally designed as a master bus effect, Titan can be used as an insert on individual tracks with very low latency. The output stage consists of a brickwall limiter with adjustable soft clip to "soften" clipped signal levels. Monitoring peak and average signal levels is critical in the mastering stage which is why an alphanumerical meter display is provided for quick and easy checks of the input or output levels.
Titan 410X Precision Maximizer features
Processing utilizes 64 bit floating point.
Alphanumerical display for easy monitoring of signal levels even in bypass mode.
Low latency, which makes syncing real-time audio and MIDI possible.
Pre-process "over" 0dB indicator LEDs to detect a "hot" input signal.
Adjustable soft-clip algorithm to reduce harsh signal.
The Rack Extension is available to purchase for 55 EUR.
More information: iox AudioWare