iThirtySeven has introduced iPro.DJSampler, a DJ Sampler app for iPad.
iThirtySeven brings down the house with its new iPad DJ Sampler App iProDJSampler. With an intuitive real-word interface, iPro.DJSampler offers the perfect balance of a professional and creative music sampler with simplicity and speed that DJs and musicians need right at their fingertips.

Designed and developed by a team of industry professional DJs, EDM producers and musicians, iPro.DJSampler transforms DJ sets and live performances into serious hyped up, hands-in-the-air experiences.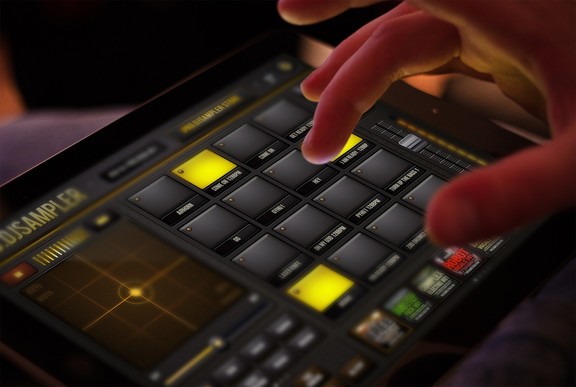 iPro.DJSampler features
XY pad with ability to control & hold effects settings as well as dry/wet slider to set effect amount.
16 ultra fast response Trigger Pads that trigger audio samples, with sample names displayed underneath & they illuminate while each sample plays.
8 Effects Buttons: Select desired effects, or swipe left to view additional 8 effects.
Sample pack load area for fast selection and loading of sample packs.
Free Sample Pack with 16 samples, including loops, vocals & sound effects.
Inbuilt iPro.DJSampler Store to purchase additional features, effects and sample packs from some of the world's biggest labels such as Skrillex's OWSLA Label & Dimmak, and DJs and artists including Steve Aoki, Sidney Samson, Nick Thayer, M4sonic, Prima Volta, Filthzilla and more!
iPro.DJSampler Store also contains 8 iPro Sample Packs – including Dubstep, Complex Electro, Drumstep, Dutch House and Vocal Packs.
Effects Assign Button: Allow DJs to assign which trigger pads are effected or not.
Pad Editor Button with 5 different playback styles: Play, Touch, Start/Stop, Loop + Touch, Loop + Start/Stop.
Fast access, full featured, multi-page help area.
Tempo keypad to set BPM.
Master volume control.
Edit Button: rename and/or delete sample packs.
In-App battery display.
Audio background playback.
Retina display.
The iPro.DJSampler is available for free from the App Store. Additional features and effects are available to purchase in the in-app iPro.DJSampler Store.
More information: iThirtySeven