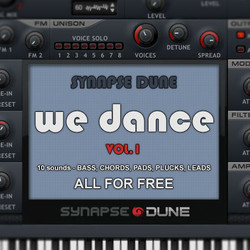 Iulian Ionescu has announced the release of We Dance Vol 1, a free soundset for the Dune virtual synthesizer for Windows and Mac.
This is my first, released, sound bank and it's for Synapse Dune. This is oriented for EDM music producers, it includes 10 sounds.
– [Bass]Dirty Bass
– [Bass]EDM Bass
– [Bass]Wowow Bass
– [Chords]Aiai Chords
– [Chords]Buzzde Chords
– [Lead]Wood Bell
– [Pad]Cold but Warm
– [Pad]WarmWo Pad
– [Plucked]Brassy Synth
– [Plucked]Hit the Wood
The soundset is a free download. Donations are welcome.
More information: Iulian Ionescu